Overview:
This is a simple scrolling platformer that allows the player to move on sloped surfaces. It is a work in progress and the collision detection is currently a bit over-complicated.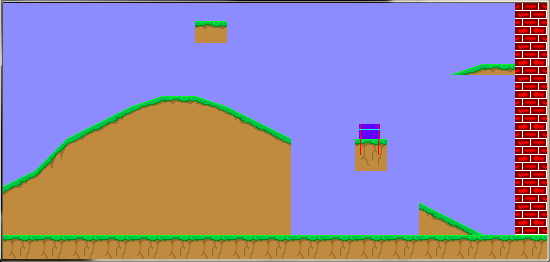 I hope to simplify the logic and expand it to allow other standard platforming elements like moving platforms. I also need to generalize it to work with screen dimensions and tile sets of varying sizes.
To run:
The repo contains both the working program and a simple map editor, run with main.py and map_editor.py respectively. Simply download the repo as a zip or clone the repository.
Controls:
Game:


Left and right to move.
Spacebar to jump (release early to cut jump short)

Map Editor:

Left mouse button to select and place tiles.
Right mouse button to delete tiles.
Arrow keys to pan map.
CTRL+S and CTRL+L to save and load.
Future:
Code still needs to be simplified. Speed while on slopes needs to decrease proportionately. Code needs to be generalized (magic numbers removed).
Notes:
The game should run with python 2.x and 3.x. The map editor requires wx python and will only run on 2.x.